You & Me And A Cup of Tea: connecting during remote learning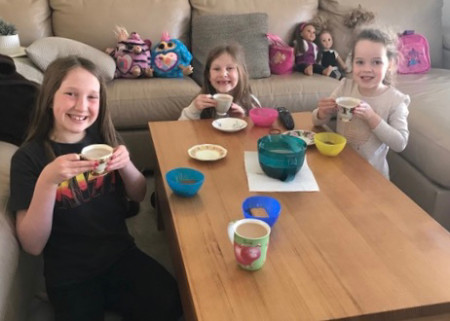 To ensure our students maintained a strong connection with the school during periods of remote learning, St Paul's staff created an online version of our Friday assemblies called 'You & Me and A Cup of Tea'.
During these weekly videos, school principal Mr Michael Reardon endeavoured to teach the children a new life skill to develop at home. Throughout the series of videos, students created gardens, baked muffins and learned to wash a car.
The weekly video became a much-anticipated comic relief from the pressures of online learning and COVID restrictions.
Principal, Michael Reardon, said the 'You & Me And A Cup of Tea' videos came about when COVID restrictions during remote learning required all staff to wear a mask at school.
"We couldn't continue with our online assemblies because the facial expressions are so much a part of the bank of dad jokes that I needed to share with the children. Therefore I decided that I could only provide this little piece of fun to the students from my home where I didn't have to wear the mask," Mr Reardon said.
"Each 'You & Me' video was based on something that the students could do that was fun and away from a device. We had fun in the veggie patch; we created a kid cave; and Mrs Brunetta and I had fun doing a zoom where she tried to show me how to make muffins.
"The best part of each video was the weekly birthday shoutout, the simple prayer that was actually written on my teacup and the final greeting: "Here's to you and all the crew and God bless you!"."
When the students returned to school, they received their very own copy of Mr Reardon's prayer in the form of a bookmark.

What our parents say about 'You & Me and A Cup of Tea':
"Thank you for making these videos! We loved watching them"

"It is a highlight every Friday for Declan, he gets most excited that you get into trouble with Mrs Reardon, he thinks it's great, keep up the good work."

"Thanks, Mr Reardon! You put a huge smile on both my girls' faces and gave us lots of laughter (adults included)!"

"William loved watching this today. He thought it was very funny. You have inspired us to make our own veggie garden."

"We loved it this morning Mr Reardon!!"
'You & Me And A Cup of Tea' Photo Gallery